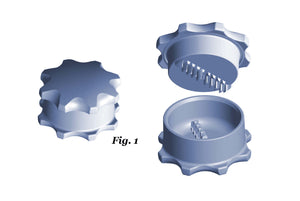 OUR STORY
An engineer by training and an immigrant originally from Hong Kong, Eric Teng had a long and successful corporate career with Enron before the company's sudden downfall. Not to be deterred, he decided to put his engineering acumen and inventive spirit to work in developing something useful with broad market appeal.  While cooking for his children, he soon realized the many flaws of the garlic press. 
His first invention, the Garlic Twister, came to him in a dream. After many prototypes and refinements, Eric finally obtained a patent for the world's first crosscutting mechanism that is incorporated into his U.S.-made Garlic Twister.  His now famous Garlic Twister has won numerous industry awards for design and function and is a bestseller both in the U.S. and abroad. 
Today, Eric continues his business along with his family in California as an inventor-entrepreneur, and he continues to create new and practical products.

Contact Us
Phone:  916.635.3882
Fax: 916.635.3988
Email: info@nextrendproducts.com
Address: NexTrend Products, 11300 Coloma Road, Suite A8 Gold River, CA 95670, USA